Intro
From now on, you can enable your drivers to create rounds themselves, using the mobile application
We developed this feature for those of you, who:
manage a warehouse or a store where dispatchers are not always present
want to have a backup solution in case all dispatchers are unexpectedly not available
want to speed up their delivery process
Now, you have the possibility to activate the "Allow the driver to create rounds from the mobile application" toggle on your platform. That way, rounds can be created based on deliveries that are available in your warehouse or store, but that are not yet part of a round.
Overview:
Enabling the feature
Procedure for drivers
Possibilities for dispatchers
1. Enabling the feature
To configure your platform, you need to go to the driver parameters (Platform > General > Mobile App – at the bottom of the box called "Driver features") and activate the toggle called "Allow the driver to create rounds from the mobile application".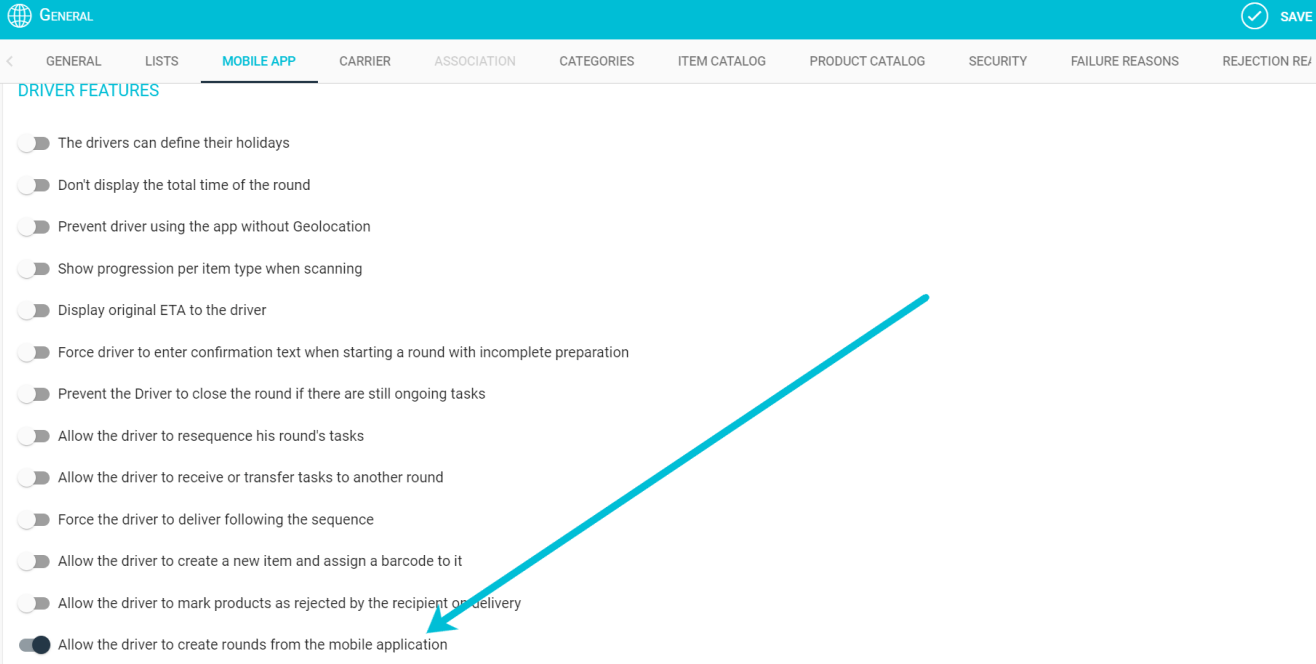 2. Procedure for drivers
The procedure for drivers is very easy and straightforward.
Connect to the mobile application and check the start screen (My mission). If tasks are available for delivery in your warehouse or store, you will see a plus sign in the top right corner.

When you click on this sign, the following screen will appear. If there is more than one option on this screen, chose the one named "Create round".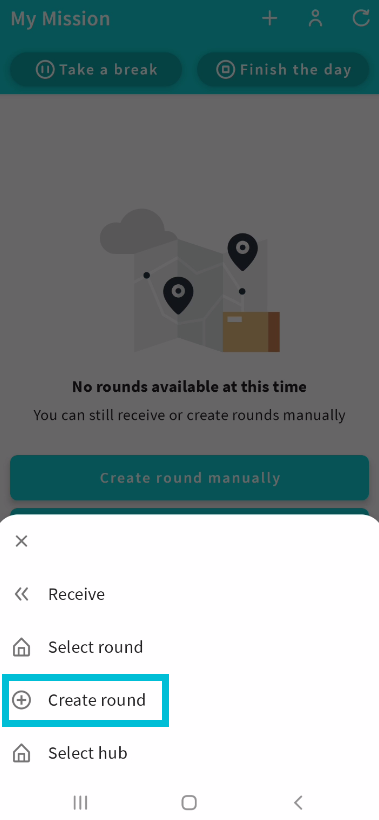 The next screen allows you to scan the barcodes of the available deliveries.
As soon as a barcode is recognized by the scanner, the corresponding information will appear on the screen.
To scan the next parcel, click on the bottom left symbol. As soon as all deliveries are scanned, the round can be created.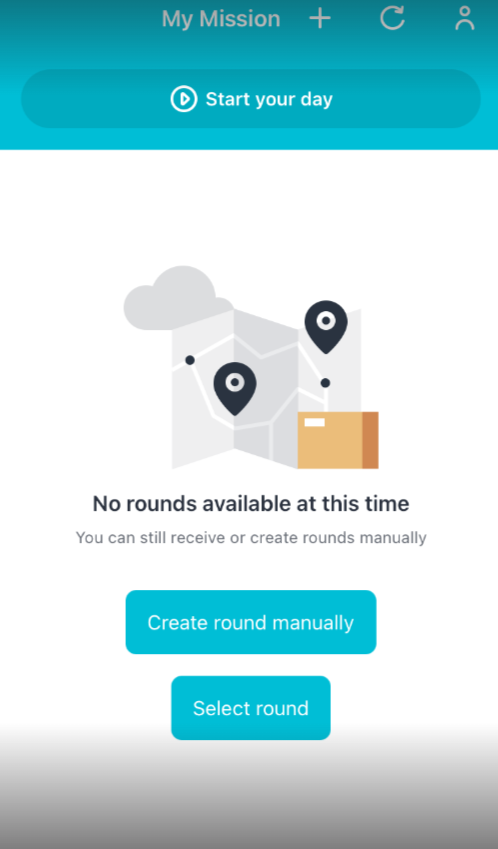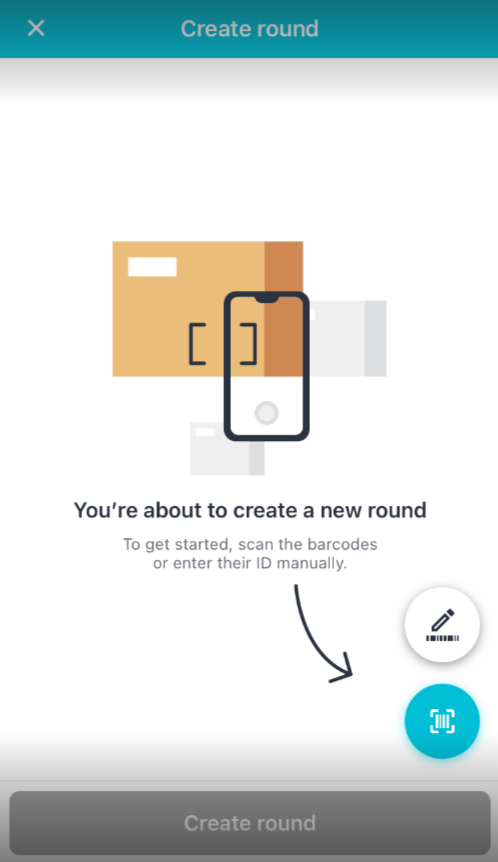 If you use an Android phone
The phone scanning module is active until "create round" is clicked.
Once an additional task is scanned, a new block of information will appear below the existing ones. To change the sequence of deliveries, click on the two horizontal lines next to a block and drag and drop it to where you want it to be.
If a task contains more than one item, each item has to be scanned separately. A counter and a visual progress bar are displayed on the screen.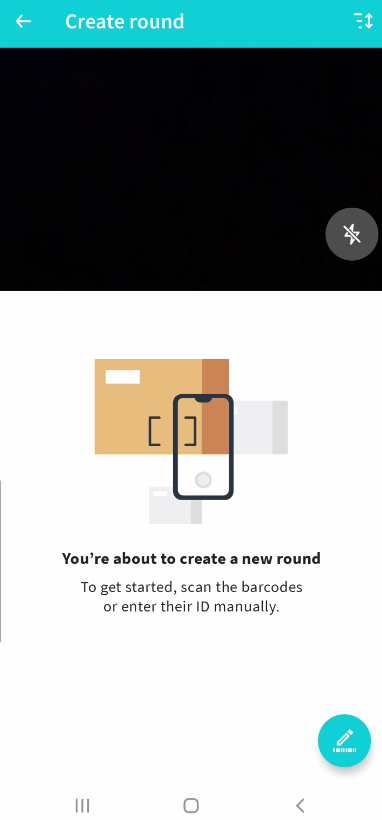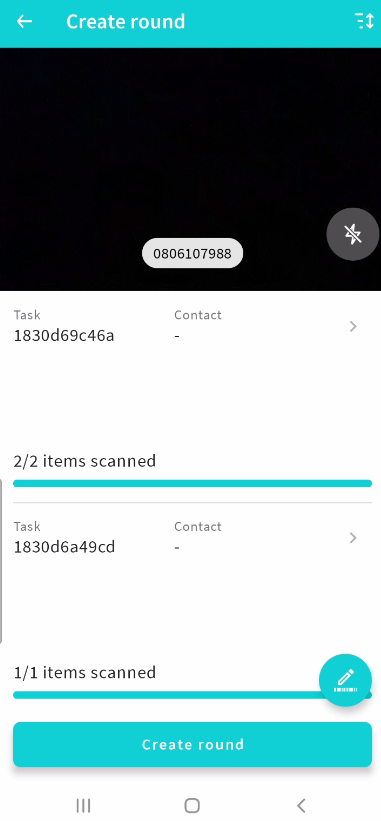 Once the scanning is done, you can click on "createround" at the bottom of the screen. At that moment, a new screen showing the round that was just created will appear. The round can be started, edited or transfered. The editing possibilities are: changing the sequence and deleting tasks.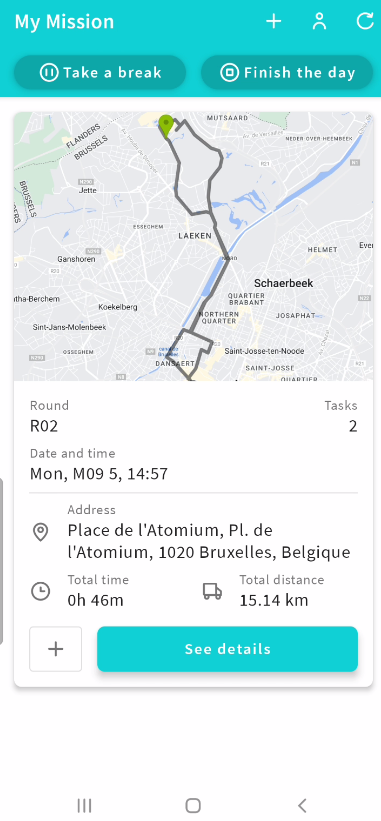 As soon as the new round is started, the procedure is the same as usual. The barcodes don't need to be scanned again for preparation, this step has been accomplished during the round creation.
3. Possibilities for dispatchers
If you are the dispatcher of a platform on which drivers can create rounds themselves, you can adapt these rounds with the round editor if need be. You can also choose one of the following options: