Intro
In this context: a HUB is the center and the heart of all of your operations.
A HUB is the logistics center of a specific area. It is a hive of activity for both national and international transport, logistics and goods distribution. Many intermediaries are associated with a particular hub. The most important fact about a HUB—in this context—is that this is the place where everything starts for the Urbantz-solution.
❗ In order for your HUB to be operational, you'll need to insert the requested information. Only the fields with an asterisk are mandatory.

1. General information about the platform
Name of the HUB
Address or latitude and a longitude
A specific description
A phone number
An external ID
A hub ID
2. Contact details of the manager (of the platform)
Name of the person
Phone number
3. Start time of that specific hub
No constraints on time
Start in X minutes from now—the exact number of minutes from when the driver should start the round
Set start the earliest time
Start of time window, e.g., 08:00 - 17:00

4. Offline
This function allows drivers to work offline in Urbantz, especially during the preparation phase.
The checklist
Do the scans of the tasks/parcels
5. Round numbering
Selecting this option allows the defining of a specific round numbering for a hub.
6. Timeslots - this section is only visible if you have activated the planning feature.
In this section, you can define timeslots for specific weekday(s) for a specific hub.
The start and the end of a time-window
The corresponding weekday(s)
Add a vehicle
Cutoff time. If added, it will only be possible to reserve a timeslot before the cutoff time set for that specific timeslot
In addition, you can also limit a time slot to authorized zip codes and zones
And ultimately, dates can be blocked. With this option, certain days can be blocked to add exceptions to timeslots. When blocking dates: your capacity will be set to 0 on the selected days and task assignment won't be possible.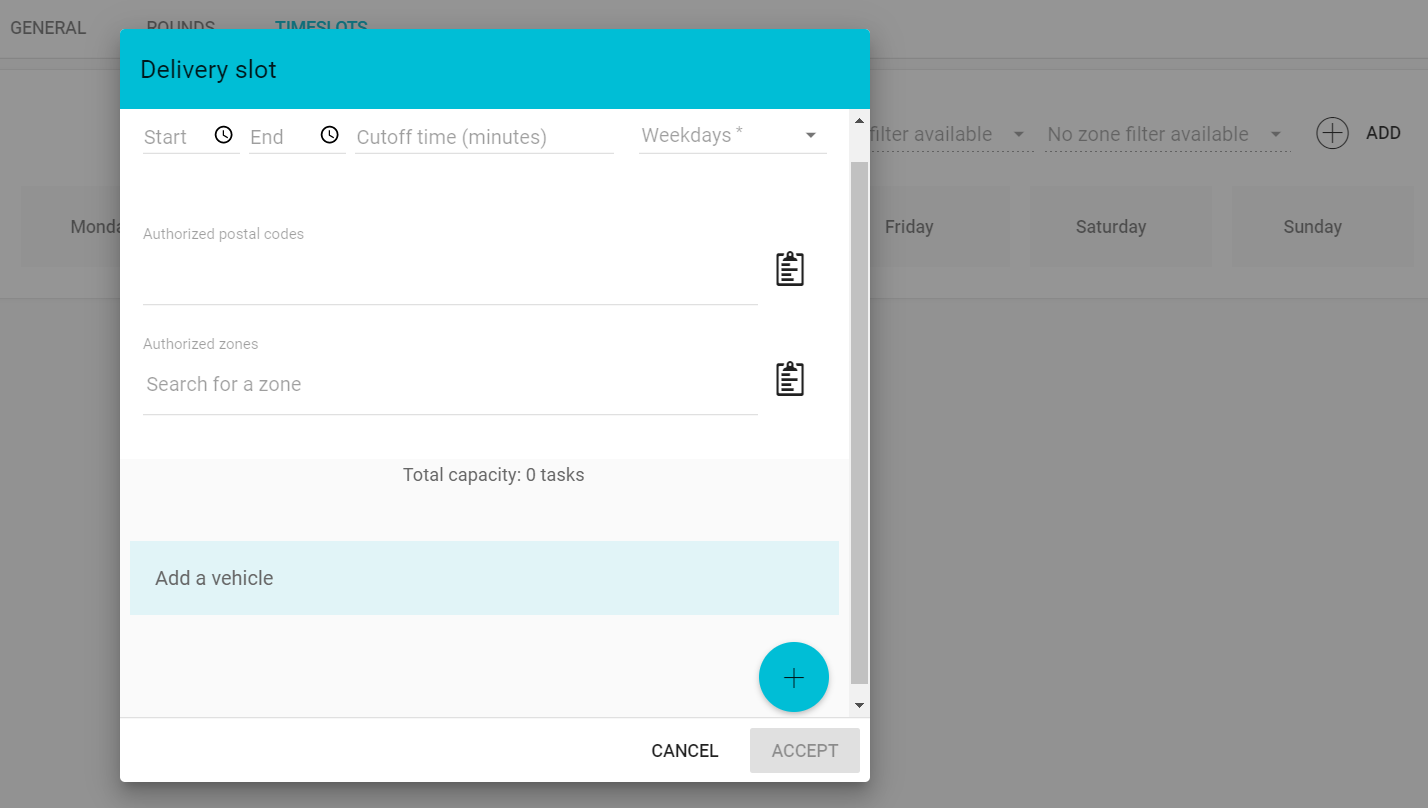 Also on this page, the Hub QR can be found by clicking on the QR: