Intro
Sometimes webhooks can't be delivered to the endpoint that was configured. Here is what can be done about it. When a webhook is being set up, you expect information to be sent from Urbantz to another system, based on certain triggers. For various reasons, the receiving endpoint can be unavailable, and webhooks can't be received and treated.
Two options help to minimize the impact of endpoint unavailability: e-mail notifications and the System Monitor. This article focuses on the e-mail option. Overview
1. Setup
When setting up webhooks you will see a toggle that, if enabled, allows you to enter an email address, to which webhook failure notifications should be sent.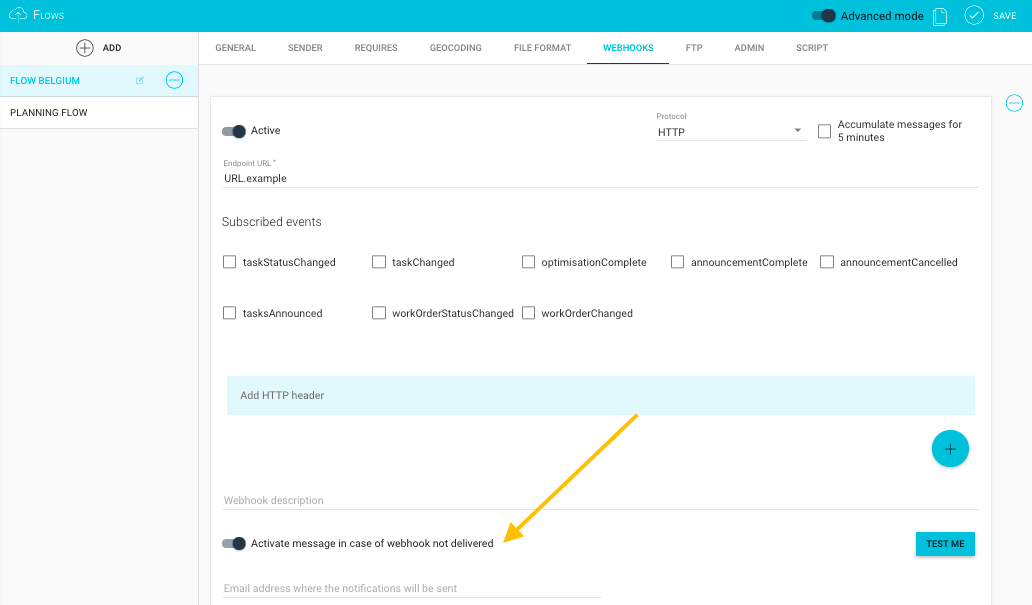 An e-mail will be sent if, after a first attempt to send a webhook and two additional retires, we could not deliver the webhook successfully (= total of 3 attempts).
To avoid spamming the email address, e-mails are not sent out in real-time. We aggregate the returns we receive and send an e-mail every 5 minutes (if there were unsuccessful attempts within this 5-minute range).
2. Email content
The e-mail contains the following information:
Endpoint: the URL to which the webhook had to be sent
Unsuccessful payloads (#): how many payloads could not be sent successfully
Encountered errors: Status code(s) and error message(s) returned to us by the endpoint
Attached: the payload(s) in JSON format
Thanks to these e-mails, you can upload the missing information into the system that is to be updated and act on the issue the endpoint is encountering.